DroneMobile w/1WG6
Standard Installed Features:
Unlimited Range via App
Up to 1000ft Range 1way Remotes
1st 30 Days of Service FREE
$59.99/Annual Renewal
Premium Plans Available for GPS Tracking
Start your car with virtually unlimited range
Check out the service plan pricing for more details.
Online Web Control
Multi-vehicle Capable
Warm your car in winter; cool your car in summer
Lock, unlock your vehicle
Pop your trunk (optional)
Activate panic alarm to protect yourself (optional)
Push Notification of Alarm Events: It's like an alarm pager on your smartphone with virtually unlimited range!
2-Way Command Confirmation: Users receive confirmation when commands are received at vehicle and will be notified if their command was not received.
Vehicle Name Customization: You can personalize each vehicle by assigning a unique name for it in the app.
Manual Transmission Safe
Check out the Manufacturer Website
Schedule reminders for any day of the week to remind you to start your vehicle before leaving work each day.
Additional parts/labor may be necessary for installation in your vehicle.
Additions range from $20-$180
Customer Reviews
(
3
)
Overall Rating of
5
out of
5

Works as promised
By

TIM

on 12-02-2017
"Very professional installation"
Was this review helpful to you?

Great service
By

Jamie

on 05-29-2016
"I recently had a remote starter installed in our Sienna minivan. Great product and the install was flawless. I would definitely go with Remotely Started again."
Was this review helpful to you?

Great Product!!
By

Roy And Shirley

on 12-04-2015
"We love our DroneMobile remote!
It's very user friendly . . . even for we older folks who aren't up on technology.
We have been able to start our car from blocks away and climb into a nice and warm car:-)"
Was this review helpful to you?
21 Years Experience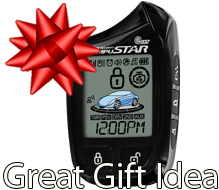 Professional Installation!
With 21 years experience in the 12volt industry I have installed just about everything in just about every make of vehicle. I have been doing high end remote start / alarm installs the entire 21 years. Having owned my own retail shop for 5 years I understand the concerns and doubts associated with remote starters and alarms.
Let me assure you that I know what I'm doing; using the latest technology and resources to install all products fast and professionally you will be happy with the results. In some cases a vehicle is new to me, but before I ever touch the vehicle I do the research to make sure it can be done in a safe way for you and the vehicle.
In most cases extra parts are needed
With the advances in today's vehicles many times additional parts are needed to install a remote starter or alarm. This may sound like a problem but with the modules I use it has never been easier and safer for your vehicle. I use the iDatalink brand bypass modules to insure a clean, safe install.
Benefits of iDatalink Modules:

Vehicle specific firmware
Updateable Online
No giving up a key for the installation
Safe DATA communication to vehicle
Less wire tapping into vehicle
Faster / Cleaner installations