RF-1WG6
Standard Installed Features:
Engine Start/Stop
Up to 1000 Ft. Range
(2) 1 Button Remotes
Gas & Diesel Capable
Manual Transmission Safe
Parking Light Confirmation
Operating distance is based on ideal conditions, clear line of sight with no obstructions or interference.
Additional parts/labor may be necessary for installation in your vehicle.
Additions range from $20-$180
Customer Reviews
(
13
)
Overall Rating of
4.8
out of
5

VERY Happy!
By

Darcy

on 02-21-2017
"Great service, great product and REALLY great price! HIGHLY recommend!"
Was this review helpful to you?

Great Service
By

Amy

on 02-14-2017
"I purchased a remote starter for my daughter. She was the one who took her car to the business. She told me that everyone was great, she was very comfortable, and it was a very easy drop off service. The installation was very quick and she has been enjoying the remote starter ever since. Great service and experience so far!! We have only had the starter for a month but it is perfect."
Was this review helpful to you?

Wonderful
By

Maria

on 02-07-2017
"Very friendly experience, fast install, Extreamly happy!"
Was this review helpful to you?

Dec. 2016
By

Robert,

on 02-07-2017
"I really like my truck starter, Works great. I recommend them to all my friends and coworkers. The service was great."
Was this review helpful to you?

VERY HAPPY!
By

Kati

on 01-31-2017
"Purchased for my husband, he is Very appreciative being from Florida, he does not much care for the cold weather. Product has worked great and as intended. JD & Brooklyn were great to work with, very responsive, friendly & able to fit the install in a little earlier than originally scheduled. HIGHLY RECOMMENDED"
Was this review helpful to you?

Install and product
By

Jim V

on 01-05-2017
"It was a quick and very clean installation.The website and appointment process was very nice and easy to use.The product I had installed works great,it's been very nice to have during these last cold days we've had,great job,I would recommend your services to anyone who asks me about it!"
Was this review helpful to you?

Keyless
By

Ricky

on 12-12-2016
"Remotely expensive for one way but understandable to an extent. Unfortunately it does not go as far which mean I do need to be close to the car to turn it on."
Was this review helpful to you?

No more key wear!
By

Kendall

on 11-25-2016
"My service van has power locks, but had no remote! Adding compustar took care of that, and no more going outside in the winter cold for morning start up. Well worth the cost, which isn't much. Great value."
Was this review helpful to you?

Great!
By

Laura

on 08-01-2016
"Seamless, well organized shopping experience. Web site is exemplary in that it answers any questions you might have and guides you perfectly through the whole process. I've had remote starters before but these new fobs are easy to use and have a sharp looking blue light when activated."
Was this review helpful to you?

Good product, Great service
By

Dan

on 02-08-2016
"JD installed this product on my 2009 Sonata. Took less than an hour. Gave complete demonstration of how product works and answered all my questions. I wasn't sure I wanted or needed a remote starter, but it took about two cold mornings to convince me that it's worth every cent. Thanks, JD."
Was this review helpful to you?

Very Satisfied!
By

Greg

on 01-09-2016
"Had installed in my daughter's car a a Christmas present. It works great and she loves it. Great product, price and overall experience. I highly recommend Remotely Started!"
Was this review helpful to you?

Compustar RF-1WG6
By

Jeremy

on 02-10-2015
"This starter works great. No problems. Fair price. Fast install. I would recommend the product and Remotely Started MN to anyone. Thanks JD."
Was this review helpful to you?

RF-1WG6 (birthday gift)
By

Chad

on 02-07-2015
"I had this unit installed on my girlfriends 2008 Crown Victoria as a birthday surprise, and she could not be more pleased. Living in an apartment makes it more difficult to walk out and warm up the car every freezing morning. She is able to start the car from our living room and go about preparing for her morning. By the time she leaves the apartment the car is nice and warm waiting for her. 3 months later she still talks about how much she loves her remote starter."
Was this review helpful to you?
20 Years Experience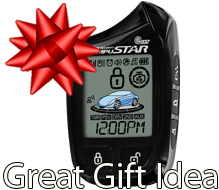 Professional Installation!
With 20 years experience in the 12volt industry I have installed just about everything in just about every make of vehicle. I have been doing high end remote start / alarm installs the entire 20 years. Having owned my own retail shop for 5 years I understand the concerns and doubts associated with remote starters and alarms.
Let me assure you that I know what I'm doing; using the latest technology and resources to install all products fast and professionally you will be happy with the results. In some cases a vehicle is new to me, but before I ever touch the vehicle I do the research to make sure it can be done in a safe way for you and the vehicle.
In most cases extra parts are needed
With the advances in today's vehicles many times additional parts are needed to install a remote starter or alarm. This may sound like a problem but with the modules I use it has never been easier and safer for your vehicle. I use the iDatalink brand bypass modules to insure a clean, safe install.
Benefits of iDatalink Modules:

Vehicle specific firmware
Updateable Online
No giving up a key for the installation
Safe DATA communication to vehicle
Less wire tapping into vehicle
Faster / Cleaner installations