Use the "Select a new vehicle" button towards the top of the website.
Browse the available products for your vehicle.
Use the "Get Your Quote" button again and fill out the available form.
On mobile/tablet devices you may need to click "Close" below to see the "Select a new vehicle" button.
Back To Top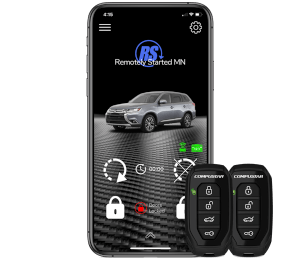 CarLink & G15 1way
Standard Installed Features:
Unlimited Range via App
Up to 1000ft Range 1way Remotes
1st Year of service FREE
GPS Tracking Included
$39.95/Yearly Renewal
Start your car with virtually unlimited range
Multi-vehicle Capable
Warm your car in winter; cool your car in summer
Lock, unlock your vehicle
Pop your trunk (optional)
Activate panic alarm to protect yourself (optional)
2-Way Command Confirmation: Users receive confirmation when commands are received at vehicle and will be notified if their command was not received.
Vehicle Picture Customization: You can personalize each install with a picture of your vehicle with the same color.
Additional parts/labor may be necessary for installation in your vehicle.
Additions range from $20-$180

Some features shown may not be included in your installation. Please review feature and optional feature lists.
Optional Features:
*Additional parts and labor may be necessary for installation in your vehicle.


Be the first to leave a review for the CarLink & G15 1way
24 Years Experience
Professional Installation!
With 24 years experience in the 12volt industry I have installed just about everything in just about every make of vehicle. I have been doing high end remote start installs the entire 24 years. Having owned my own retail shop for 5 years I understand the concerns and doubts associated with remote starters and alarms.
Let me assure you that I know what I'm doing; using the latest technology and resources to install all products fast and professionally you will be happy with the results. In some cases a vehicle is new to me, but before I ever touch the vehicle I do the research to make sure it can be done in a safe way for you and the vehicle.
Informational Videos
Remote Size Comparison Picture