Use the "Select a new vehicle" button towards the top of the website.
Browse the available products for your vehicle.
Use the "Get Your Quote" button again and fill out the available form.
On mobile/tablet devices you may need to click "Close" below to see the "Select a new vehicle" button.
Back To Top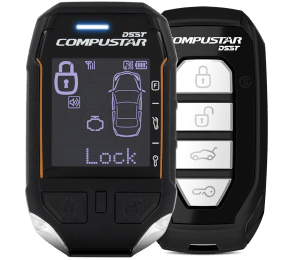 RF-T12-SS
Standard Installed Features:
Engine Start/Stop
Up to 3 MILE Range
(1) 2-way LCD Display
(1) 2-way LED Remote
IPX-7 waterproof and features a high-strength injection molded body to withstand everyday impact.
Lithium Ion Rechargeable Battery In LCD Remote
Battery life on full charge is 2 months on average depending on amount of use.
Fully charges in 8-10 hours
Comes w/Charging Adapter and Cord
Confirmation of Command by:
 LCD, Beeper and Vibration
Run-time countdown
Gas & Diesel Capable
Automatic and Manual Transmission Capable
Parking Light Confirmation
Operating distance is based on ideal conditions, clear line of sight with no obstructions or interference.
Additional parts/labor may be necessary for installation in your vehicle.
Additions range from $20-$180

Some features shown may not be included in your installation. Please review feature and optional feature lists.
Optional Features:
2nd Lock Horn Honk/Panic $20
Owner's Manual
*Additional parts and labor may be necessary for installation in your vehicle.


Be the first to leave a review for the RF-T12-SS
25 Years Experience
Professional Installation!
With 25 years experience in the 12volt industry I have installed just about everything in just about every make of vehicle. I have been doing high end remote start installs the entire 25 years. Having owned my own retail shop for 5 years I understand the concerns and doubts associated with remote starters and alarms.
Let me assure you that I know what I'm doing; using the latest technology and resources to install all products fast and professionally you will be happy with the results. In some cases a vehicle is new to me, but before I ever touch the vehicle I do the research to make sure it can be done in a safe way for you and the vehicle.
Informational Videos
Remote Size Comparison Picture